Above: GIF Animation created from the 4 images taken of this object by John Mooner
06-10-17:
Energy Plasma-Type Sphere UFO Passes Through Jet Contrail Newton Abbot, Devon, UK
"I was sky watching when I spotted a sphere approaching from the East. The Sphere appeared to be plasma-like and at times seemed to be translucent in nature. I grabbed my Nikon P900 camera off the garden table and switched it on. I then began looking through the camera viewfinder and began to follow the sphere as it moved across the sky heading toward a
passenger plane that was approaching from the south. I quickly started taking photographs of
the plasma sphere just as it passed over the plane's contrail and flew off into the distance
where I lost sight of it. I took six photographs capturing the sphere in four of the photographs.
The Photographs were taken on the 6th of October 2017 11:30 AM at Newton Abbot Devon England. All the best John."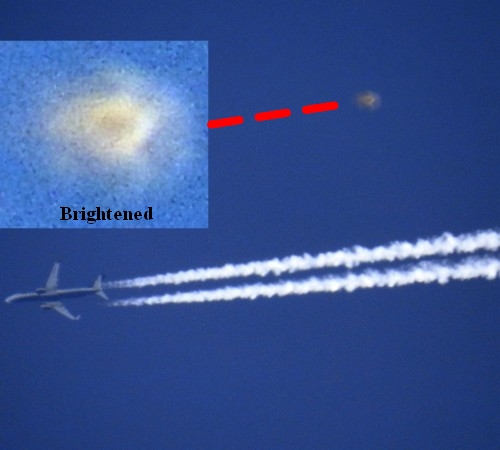 Above image shows orb passing though contrail; inset - object enl/brightened; click for more object detail.