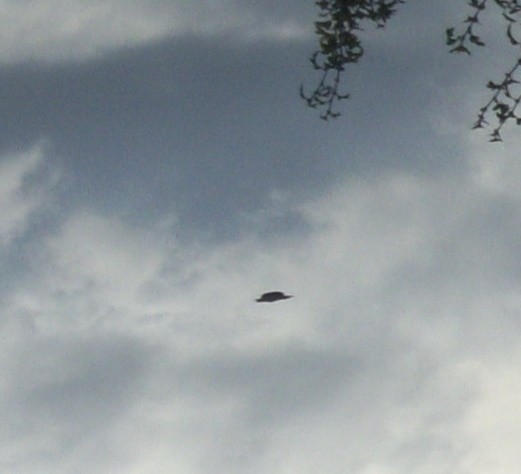 please roll your mouse over to enlarge picture.
Please scroll down the page for more details:
Taken at Clanfield, Hampshire, 09/08/08

Kodak 8mp camera used;
weather conditions dull but fine at time of visit, drizzled a little.

We e-mailed this image to BUFORA for their opinion and they replied:
"apart from the bird, what ufo are we meant to be looking at?"

What kind of bird could this be? I ask myself.
Clearly BUFORA are NOT interested in the truth at all.
There have also been other UFO sightings made by those who live in Clanfield.
Such as this example:
Clanfield, Portsmouth, Hants, UK, 25. 09. 10
Time: 9.25pm
Location: Clanfield
Statement/Message: 'I was lying in my bed which is situated just under the
window and I could see the moon and stars as I lay resting for a nights sleep,
when an orange ball of light caught my eye and glided across the clear moonlit sky.
It went at a speed faster than a light aircraft but slower than a jet.
I shot up to try to comprehend the object but it dissappeared beyond the trees.
Within a few seconds of lying back down another appeared exactly in the same
direction towards south east gliding by as the first one did.
I listened out to hear if there was any sound of distance plane noise but there
was nothing.
Did anyone else see them?
I have never seen anything like this before.'