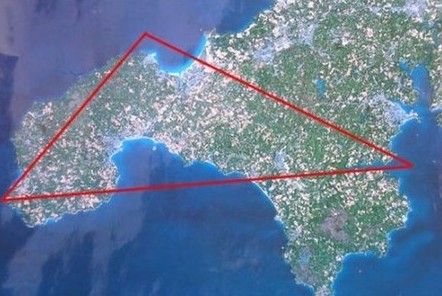 The Cornwall UFO Triangle - "the county that has the most UFO sightings in the UK"


The triangle shows the area that has the most reported UFO and paranormal activity, according to the Cornwall UFO Research Group.
The triangle of activity runs from Land's End to Falmouth bay to St Ives Bay.
Cornwall has the highest number of sightings of UFOs in the country according to the latest research.
Lionel Fanthorpe from the Cornwall UFO Research Group said: "It's extremely difficult – nearly impossible – to obtain rigorously balanced, objective data for paranormal and anomalous events."
Mr Fanthorpe said calculations were based on first-hand experiences, on-site investigations, case studies and discussions with other researchers.
He said: "When the many different types of reported psychic, paranormal and anomalous phenomena are brought together and given the same statistical weighting, three localities seem to stand out: Cornwall, Norfolk and an area bounded by Harrogate, Leeds and York."
The figures show more than 60 reported sightings of UFOs in Cornwall compared to a national average of 40 sightings for comparable areas.
Sources:
Story: West Briton newspaper: Image: The Cornwall UFO Research Group