Report: 03 02 2016 Triangular UFO Over
Llansantffraid
ym-Mechain, Powys, Wales, UK
Witness statement:
"My name is ****** *******.
On the 3rd of February 2016 at approx. 9:10pm I saw something in the sky that I couldn't figure out.
I live in Llansantffraid ym-Mechain which is a small village in Powys, Wales. I went outside for a cigarette and noticed something in the distance just above the skyline.
At first I thought it was either a plane or a helicopter which is not an irregular thing to see above the skies here but this object was stationary, and appeared to be hovering. It had 3 red lights in a triangular formation, with a blue-white blinking light in the center.
I heard some bangs in the distance that sounded like something impacting rather than a gunshot or firework, and then the object was gone.
Around 30 seconds later it reappeared and began rapidly gaining altitude whilst the red lights disappeared during the ascend. Within a minute (estimating 45 seconds) it was well above my head and moving to the East towards a village called Four Crosses, about a mile away from my location.
I watched it as it traveled at speed, noticing a smaller orange steady light behind the blue-white one. I continued to observe it for roughly a minute until it had flown out of sight.
I attempted to get a photo or video of the object but unfortunately I only had my mobile phone to hand and the camera couldn't pick up the lights, presumably due to its distance.
My only thought is that this could've been a remote controlled camera drone, but
it appeared to be very large and moved large distances in a short time
, making me think that it would've traveled out of the range of a remote control, and as to why anyone would fly a camera drone in a countryside town, in the dark, is beyond me.
I hope this report is useful to you, would you be able to provide me with any sort of more earthly explanation to what I have seen?
Thank you."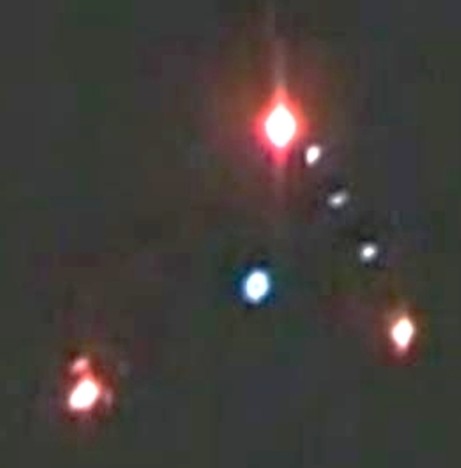 Something like this artist likeness perhaps? (Ed)
Please click on these words for a similar case from 2015, same area.