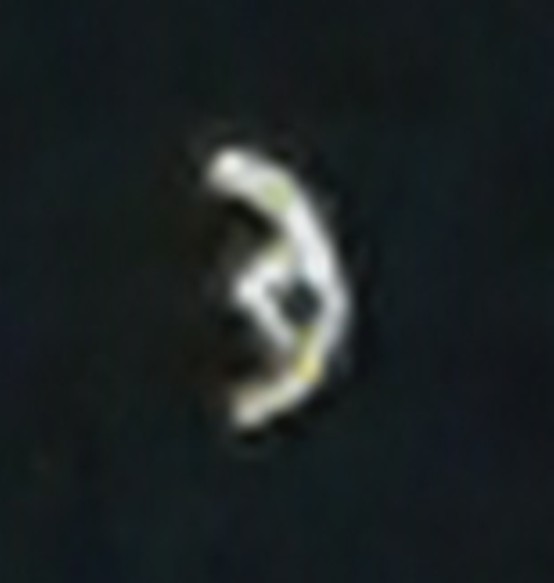 Above is an enlargement of >>Case Photo 1 << (click where is says 'Case Photo 1' to see original photo)
UFO Seen From Barton Hills, Hitchin, Hertfordshire Above Luton, Beds, UK - 20 04 2016
20-04-2016:
Very Unusual UFO Seen From Barton Hills, Hitchin, Hertfordshire Above Luton, Beds, UK

This report was submitted to BEAMS at 06:09 PM UTC - 22 April 2016
Name
***** *******
Email
*******@gmail.com
City
Luton, Beds, UK
Date
20/04/16 at 21.30 approx.
Location
Barton Hills, Herts - very high up, NE of the moon
Message
"I have photos", (shown above and below this report), "that I took": "These show the object very clearly and how

it changed shape often.



I saw it was there the whole hour I was outside.

There is video as well, but not good quality.

I was actually only outside looking up that night as I was looking for the "green moon" (I'm embarrassed to say lol), then I noticed what looked like 3 bright lights which were not moving but obviously not stars.

When I took the photos I was amazed that they became better when zoomed in. I then filmed it to show the proximity of it to the moon which you will see in the video.

I've never seen anything like this before & wondered if maybe it was the space station, but the object I saw didn't move

it just rotated

as you can see from the different images."

So, was this in fact a sighting of the ISS, (International Space Station)? Well, I did some checking on the site spotthestation.nasa.gov and this is the result that I received when I entered 'Luton, Beds, UK - April 20, 2016' into their ISS flyover dates calculator: "There are no sightings in your area for the period of Wednesday Apr 20, 2016 through Thursday May 5, 2016".
So it seems that any idea of this unidentified simply being a misidentification of the ISS can be totally ruled out... unless of course, NASA got their ISS flyover time predictions wrong - which seems most unlikely!
Below is an enlargement of >>Case Photo 2<< (click where is says 'Case Photo 2' to see original photo)
UFO Seen From Barton Hills, Hitchin, Hertfordshire Above Luton, Beds, UK - 20 04 2016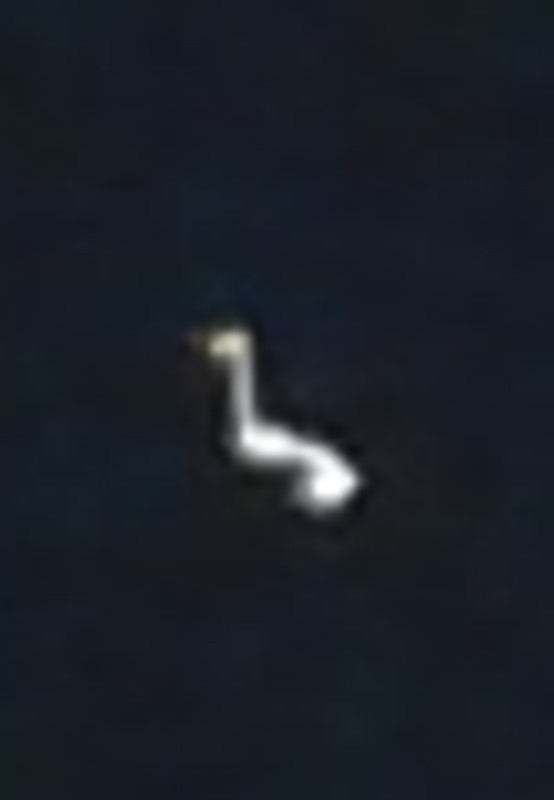 So it has to be asked - what could this very strange, morphing object be?
Below is the witness' video; it's not great I'm afraid, but at least it shows the proximity of this unusual object to the moon; halfway through there is also an edited version - where I have zoomed in on the UFO as best as possible; must view on full screen to see any detail.