This report was submitted to BEAMS at 10:12 AM UTC - 23 June 2016


22 June, 2016 - 9 Orbs Emerge From One Light Over Hounslow, Greater London, UK


Name

  *****


Email

  ***********@gmail.com

City

  London

Date

  22 June 2016

Location

  Hounslow, Greater London, UK

Message

  Hello,
  
  Last night about 11pm, I was looking out of the window (because I was 
  waiting for my husband), and I saw a light, not very wide: I was thinking it's 
  from a plane because live not very very far from Heathrow airport. 

  When the plane passed the light I was wondering where the light came from. 

  Then, after maybe 1min from this single light came a lot of smaller lights 
  and or orbs, (I don't know the exact term) and began flying in different 
  directions very fast. 

  Because it's was cloudy I couldn't see the shape, just the lights. 

  Altogether maybe there were about 9 lights which came from this 1 light 
  and then they disappeared. 

  When my husband come home I told him, but 100% he didn't believe me. 

  After 30min maybe, I went back to the room I had been looking out from to 
  close the windows and I saw the same lights again flying fast.

  So I ran to my husband, and he dashed to the window and he saw the same 
  thing.

  I have picture's with the first light from where the smaller came.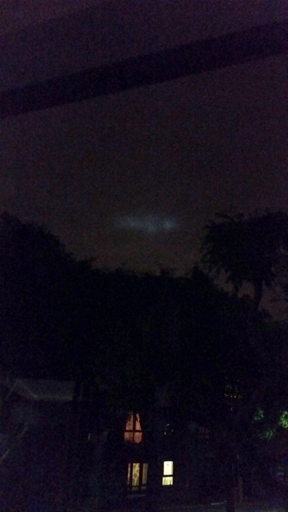 9 spheres emerged from 1 (click to enlarge)

One example of the photos taken by witness