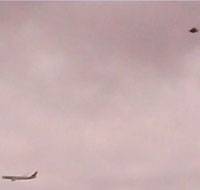 Above: Original case image

28-08-2008: Daylight UFO, Tynemouth, Tyne & Wear, UK
IT manager Paul Robson, from Newcastle, was visiting Tynemouth when he apparently caught an unidentified flying object near an Emirates aeroplane on his own digital camera.
The photograph, which shows a 'flying saucer' shaped object on the right hand side, was taken at Tynemouth Long Sands at around 1pm on Saturday, June 28.
Mr Robson told the News Guardian: "It was taken on my four meg digital camera.
"I was there with my wife and kids – just near the church of St George's on the seafront.
"I was testing my camera's battery and took a shot of the Emirates flight from Dubai into Newcastle.
"Looking at the photos the following day I noticed a shadow north east of the plane – and when I zoomed it looked like a flying saucer shape."
Mr Robson said that the photo has not been doctored and he can't recall seeing the object when he took the photograph.
"Needless to say, I've taken a bit of stick at work for this," he added.
A local freelance photographer from North Tyneside, John Millard, said he was sceptical, and believed the unidentified object could have been a fault with the camera or, most likely, a speck of dirt in the lens.
"I think he needs his lens cleaned," he said - end quote.
Whatever you say Mr Millard, but the object still looks like a classic flying saucer-shaped 'craft' to us here at BEAMS... and we have seen this kind of shot many times before.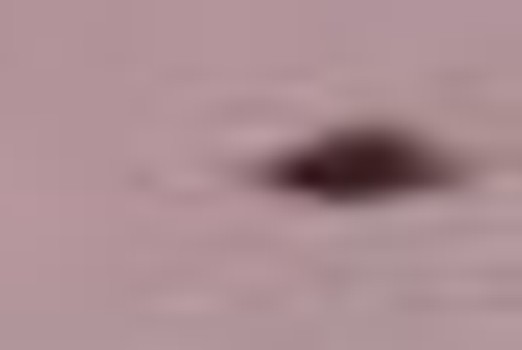 Object enlarged
Subscribe to News Guardian