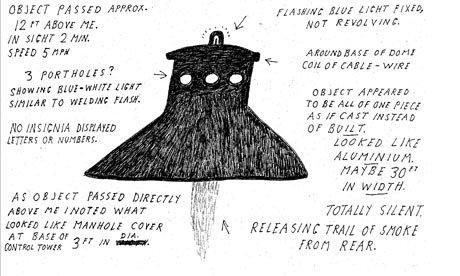 Above: Witness drawing
3 UFO Sightings From Smethwick, West Midlands, UK - 1954-2009
Witness description: In 1954, this object passed approx 12 feet above me, moving at about 5 miles per hour and in total silence; it was aluminum in colour and had what looked like portholes going around the upper portion, with a flashing blue-white light, (similar in brightness, to a welding flame) on the top: there was also a trail of smoke coming from the rear. I watched this event for about 2 minutes.
Admittedly, at first glance this comes across as absurd, until one discovers with a little archival research, that there have been other similar sightings in this area, with one as recent as 20/10/2009.
'a white glowing ufo was seen over Smethwick, 11th September, 2002 at 5:30am.'
and
'a disc-shaped craft and unexplained sounds occured on the morning of 9th October, 2009 in Smethwick.'
These are but three sample reports for this area that are on record; simply Google 'Smethwick UFO' to find numerous others.