05-05-09: Bolton, Lancs, UK - UFO Firing BEAM Down?
Email message received from fellow Ufologist Gordon Dungavel.
"Hi Ken, we are just back from 5 days holiday to the Lakes and Dales Tour.
Bolton was very disappointing as the weather was dreadful, and the eight hour daily coach tours unbearable. I sat in the hotel bar as much as I could: Anyway, what little sightseeing we did in five days I took just six pictures... that's how bad it was!
Anyway, I can't help but sit-up and notice tonight, that one snap of Tracy, taken in a muddy field outside our hotel, has something unusual in the sky: I see a little dark object far behind her to the left over an expanse of water in the distance.
I've blown the photo up, towards that area: What is that? Also notice, what to me looks like two 'clear' beams coming from said object, going down towards the water?
I think it is of enough importance to send it to you.
1st photo is the Tracy photo 'as-is', 2nd photo is an enlargement of area of interest.
Hope all is well. G."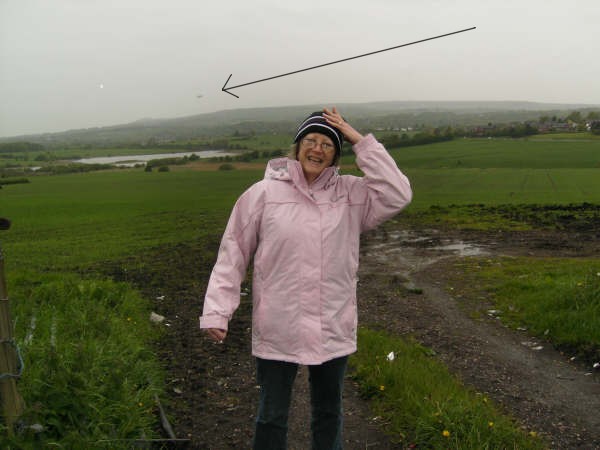 Above: Original case image; UFO arrowed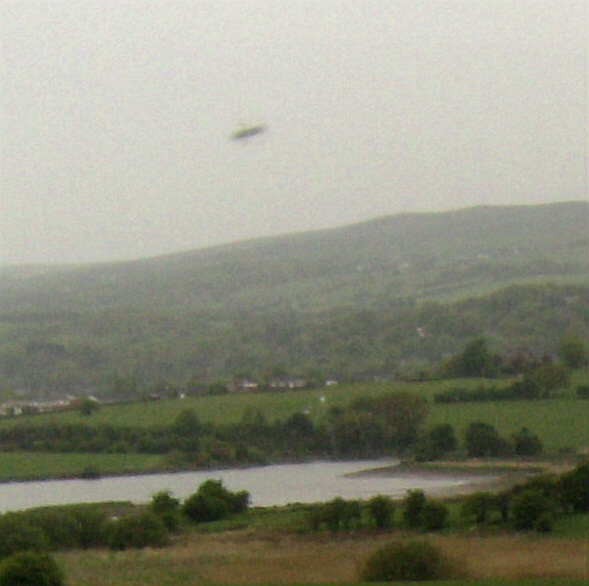 Above: Enlargement detail; note the 'beam'-like lines coming down from this object to the ground?
I can personally vouch for the integrity of Gordon, and hence this picture, as I have known him for years and believe him to be what is known as a repeater witness, such are the high number of interesting UFO encounters that he has lived through.
Signed BEAMS Chairman.

FOR LATEST UPDATE OF THIS CASE PLEASE CLICK HERE.