Conisholme, Lincolnshire, UK - December 09, 2008

Extract from Louth Leader newspaper artcle by Gemma Gadd
Published date: 15 January 2009

'This doughnut-shaped UFO was caught on camera near Conisholme wind farm, a few weeks before the wind turbine was damaged.'
original photo, please click to enlarge.
photographer Brian Lee
Louth Leader article continued: 'Brian Lee, 55, was driving on Billings Gate road in South Somercotes at 4.30pm on December 9 and stopped his car to take some pictures of a dramatic sunset on his mobile phone.
It wasn't until he returned home and looked over the images that he discovered the strange object in one of them.

He said: "I looked at my phone and just saw this doughnut-shaped thing in the sky; I didn't know what to think it was."

The image, facing a south westerly direction, also shows the headlights of a car approaching. The mystery object can be seen in the sky amidst the dark clouds.

Mr Lee, from nearby Saltfleet, said: "I've sat on this photo for a while because I just didn't know what to think about it, but after seeing all your stories in the Leader about the wind farm UFOs I thought maybe I should show somebody."

When asked if he believed UFOs were of alien origin, Mr Lee said he likes to keep an open mind, but added: "This isn't some sort of hoax as I really don't have any interest in the whole UFO thing. I just thought it was really strange."

Thanks to the Louth Leader newspaper for this data.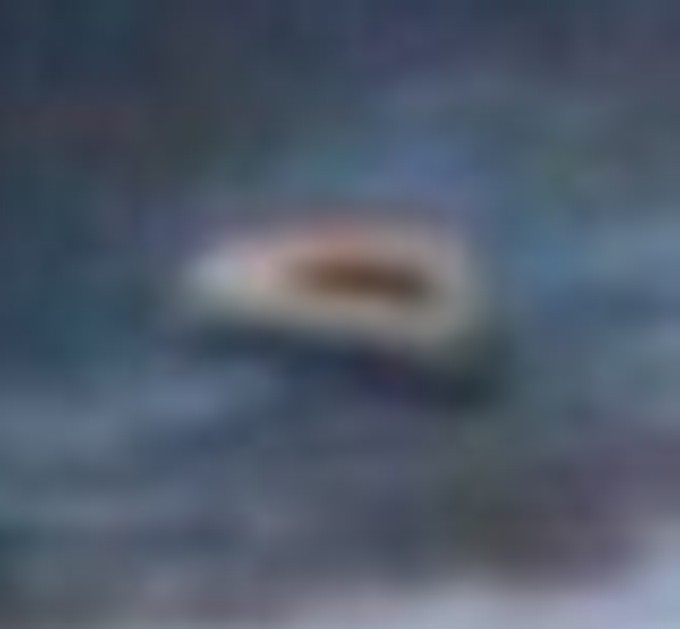 BEAMS blow up of mystery object
Update: Jan 21, 2015: My Facebook posting:
For some strange reason, this potentially important image has hardly been promoted in Ufological circles; it hasn't been shown on any TV documentary about the mystery (that I have seen anyway), including Richplanet, History Channel etc; or perhaps someone will correct me on this score; maybe it WAS briefly shown somewhere and I nodded-off or something;
this, despite originally having been published in the Louth Leader newspaper, and also being on our BEAMS site since early 09.

Perhaps it's down to copyright issues, or could it be that the high profile researchers and programme makers who reported on the Conisholme case knew something damning about the photo that we didn't. Yet as far as I am aware, the image is absolutely genuine. Either way, surely we, the public, should be allowed to see ALL of the evidence and decide for ourselves.
So, is this a secret military project? (the fabled TR3B perhaps?) or exotic technology of completely unknown origin?

Well, for a start, I am not necessarily buying into the fantastic claims made by the likes of Edgar Fouche and similar ex-military people; it is quite possible that much of what they say is disinformation deliberately put into the media, simply to muddy the waters and cover this whole mystery;

unless I see evidence to persuade me otherwise, I think the proposal that at least some of these mystery FT's are 'alien' creations, is not without merit.
Actually, I did find one other site with this image on; just one - big deal! An additional point; if you look at the photo, it seems to have been shot from within a car… headlights from car in front, and I suggest that might play a part in what you see as the donut shaped UFO.