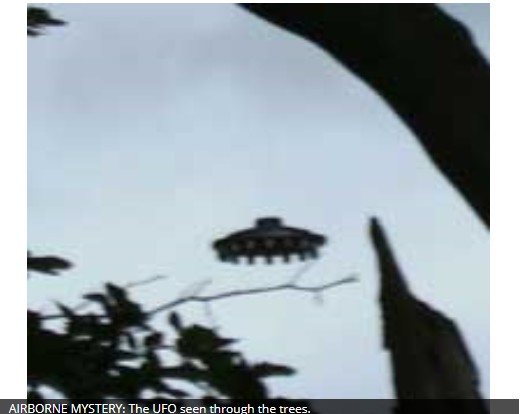 Flying Saucer Over Ipley, New Forest, Hants, UK - August 2007
by Julian Robinson, Eastleigh Chief Reporter
Call it what you will, an eagle-eyed walker has spotted yet another UFO hovering in Hampshire's skies.
This mysterious object was seen circling above trees in the New Forest in broad daylight on Sunday morning.
The photo was taken by an astonished onlooker, who has asked not to be named for fear of being ridiculed, who was with his family in Ipley at the time.
He told the Daily Echo how he snapped the picture moments before the strange contraption vanished into thin air.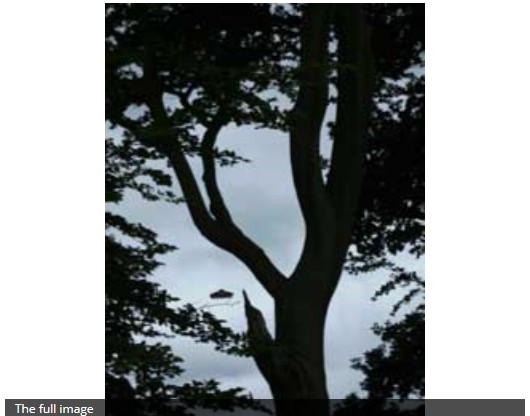 He said: "It was spinning slowly and moving in a straight line. It was not travelling fast at all.
"The whole thing cannot have lasted more than about 20 seconds. I got a quick photo with my digital camera but by the time I had rushed to a clearing for a better look, it had gone.
"If it was a spaceship, then we wondered whether the flash had gone off on the camera and they had seen it."
The UFO, he said, was about 25ft to 30ft across with a dull grey or silver body and "shiny pieces" attached to the underside.
He added: "I really have no idea what it could have been. We got a good look at it through the trees, but it all happened so quickly.
"There may well be a logical explanation for this, but I don't know what it is."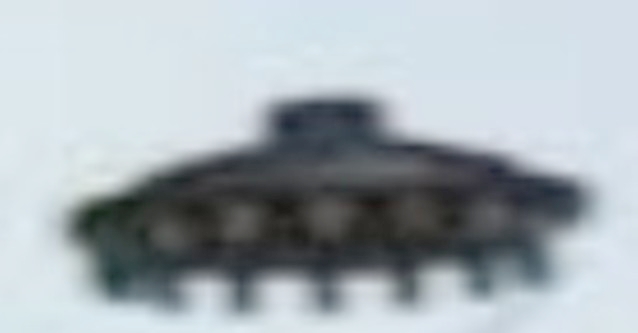 Above: Taken from original case image - cropped blow up of object (brightness adjusted)

A police spokesman said there had been no reported sightings in the area on Sunday and said beat officers had not noticed anything unusual while on patrol.
She said: "We have checked through the system and there are no suspicious incidents of a UFO nature logged on the system."
The sighting is the latest in a string of aerial oddities reported in the region this year.
In June, mysterious orange lights were seen moving slowly across the Thornhill estate - but they later turned out to be lanterns.
And in April, a pilot flying from Southampton Inter-national Airport attracted worldwide attention when he spotted a UFO from his window.
His sighting of two cigar-shaped objects, each up to a mile wide, in the sky near Guernsey, was backed up by passengers and another plane. They were described as being very sharp, thin yellow objects with a green light hovering at about 2,000ft.
Earlier this summer, top secret records detailing a decade of UFO sightings in Hampshire were made public for the first time by the Ministry of Defence.
The X-Files, published in response to a Freedom of Information request, showed how the MoD logged 27 reports of unidentified flying objects in the county between 1998 and 2006.
The biggest year for sightings was 1998, when ten separate reports were reported.
Last year, however, just two sightings were logged.
At the time, an Air Staff spokesman from the MoD said: "To date the MOD knows of no evidence which substantiates the existence of these alleged phenomena.
"We believe that rational explanations, such as aircraft lights or natural phenomena, could be found for them if resources were diverted for this purpose, but it is not the function of the MoD to provide this kind of aerial identification service.
"It would be an inappropriate use of defence resources if we were to do so."
Source: Southern Daily Echo