Dog-walkers in Waunarlwydd find horse 'stabbed to death' with eyes pulled out!
February, 2015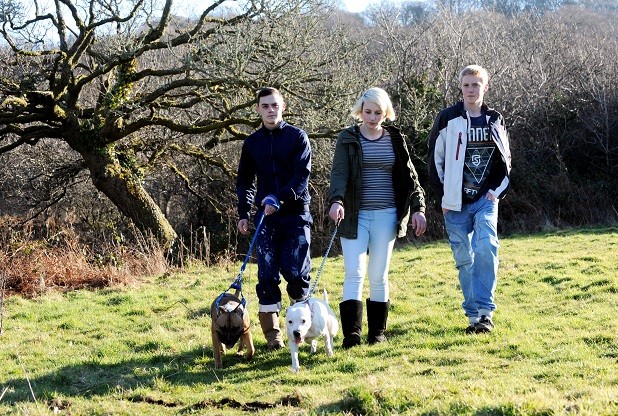 AN animal-loving couple were appalled to make a horrific discovery as they walked their dogs in Waunarlwydd, South Wales, UK.
Tyron Curtis and his fiancee Alicia Hilton were walking their Staffordshire bull terriers Diesel and Stassy, when they stumbled upon a horse, which they believe had been stabbed to death.
"My fiancee and I were taking the dogs for a walk in the field behind my house on Caergynydd Road," said Mr Curtis.
"It was a casual walk, but we came across a dead horse, which we thought looked like it had been stabbed to death and had its eyes pulled out."
Shocked at the find, the young couple set about trying to find the horse's owner. "We have been to all the houses and nobody knows who owns it," said Mr Curtis, aged 23.
"I was devastated — we were about 150 yards away from it, and I thought it was a cow at first, but there are no cows on that field.
"We love our animals and we love going up to the field and seeing the horses.
"The horse was perfectly fine the other day, it was standing there eating the grass.
"But this looks like someone has done it on purpose."
A spokeswoman from the RSPCA said no report of the dead animal had been made.
However, she added: "Anyone with any concerns about an animal, or those who would like to report cruelty should contact us on 0300 1234 999.
"All calls are treated in confidence."
Source: SWEvening Post
It may be simply a coincidence, but this area has seen quite a bit of ufo activity in times past: two video examples here.