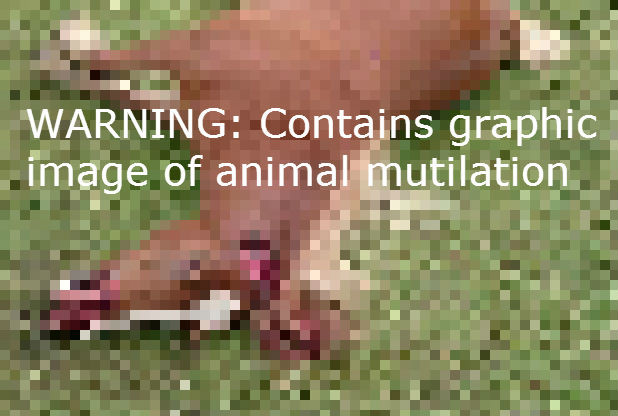 Honey the horse after the brutal attack: Click to enlarge - at your own mental risk
Horse killed in 'barbaric' blade attack in Syston
Story by Tom Mack | Posted: September 08, 2015.
WARNING: This story contains graphic details and an image of the mutilated horse.
Police are investigating after a young horse was hacked to death in a field.
Honey, a two-year-old horse, was discovered dead on Monday morning in her field off Potters Lane, Syston, with serious injuries to her head and the rest of her body. Her owner, Claire Watts, said: "It's barbaric. "This was absolutely the most disgusting thing I've ever seen in my life.
"I could not believe what I was seeing. "The police forensic officers have confirmed it was done with a very sharp implement of some sort and we're just waiting on the full post mortem. "Her right ear and some of the right side of her face were cut off and there were lacerations all over her body. "I've never seen anything like this."
Honey was in the field to keep three rescue horses company. Claire, a professional horse spinal therapist, trains horses to appear in films and take part in jousting and other events.
She said: "Honey was a really well-bred horse who I had owned since she was a yearling and I put her in that field to keep the other three company because they are all rescue horses. "None of the others were hurt thankfully, but they were clearly very unsettled by the attack on Honey.
"When I first arrived on Monday morning they were going back and forth to Honey's body and were clearly distraught. We moved them straight away." The incident is being dealt with by the police and the RSPCA. An RSPCA spokeswoman said: "This is a particularly distressing incident where a horse has been killed after enduring a vicious attack.
"Anyone who knows or saw anything, no matter how small it might seem, is urged to call so we can find out how the horse died."
A police spokeswoman said: "The incident is believed to have happened sometime between 6.15pm on Sunday and 10.30am on Monday. "The distraught owner discovered the two-year-old filly chestnut cob which had sustained multiple injuries and called officers shortly afterwards.
"Officers are investigating the circumstances surrounding the death of the horse." Anyone with information about the incident is asked to contact the police on 101. Alternatively, call Crimestoppers on 0800 555 111.
Source: Leicester Mercury