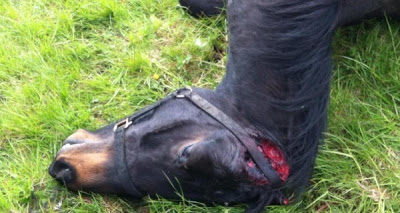 Above: Mutilated Horse Found Dead in the Darndale Park, Dublin, Ireland, UK - May 15th 2013: Photograph: Aran for The Irish Times Newspaper.
"I cannot help but notice how neatly cut those circles are. The fact that in addition to being disemboweled, the attackers also cut out the horse's anus, which certainly echoes UFO mutilation reports. Thought I might bring it to your attention."

There have been incidents of animal mutilation throughout the UK and Ireland. I dare to say that the degree of corruption on this horse is suspiciously similar to other cases where UFO/alien involvement was speculated.


An

animal rights

protection group is offering a €5,000 reward for information leading to the arrest of the person responsible for a vicious attack on a horse.

A horse was found dead in the Darndale Park area of Dublin with a number of

injuries

to its body yesterday. It was disemboweled and had its ears cut off and anus cut out.

Animal Rights Action Group (ARAN) has put up the reward to encourage those with any information on the crime to come forward.

Spokesman for Aran John Carmody who has dealt with cases of animal cruelty for years, said it was "one of the most grotesque and sordid cases of cruelty" he had ever seen. "This animal was literally tortured and I used that word very strongly," said Mr Carmody.

Mr Carmody said the reward was put forward by the group because people were reluctant to talk. "The area where the horse was found doesn't have a good record when it comes to looking after horses and other animals."

The group is also contacting

local schools

in the area with offers of having group representatives in to talk about cruelty to animals and the problems associated with it. They are also advising residents in the area to not leave their animals unattended outside.

"Animal abusers are cowards," said ARAN cruelty caseworker Ronan Geary. "They take their issues out on the most defenceless beings available to them. Area residents have good reason to be concerned. According to law-enforcement and leading mental-

health

professionals, perpetrators of violent acts against animals are often repeat offenders who pose a serious threat to all animals—including humans."

Mr Carmody added that he hoped whoever was convicted of the crime, received psychological intervention.

"Gardaí in Coolock say that have their work cut out in this area with regard to cases of horse and animal cruelty ," said Mr Carmody.

Mr Carmody appealed for the Government to bring forward legislation regarding the animal health and welfare bill "as a matter of urgency."

"There needs to be stiff fines and jail sentences as well as psychological evaluation for perpetrators because people will continue to abuse animals unless something is done very soon," said Mr Carmody. - Aine McMahon - Irish Times