October, 2014 - The Grey Lady Ghost of Dudley Castle Caught On Camera - Finally!
She is, without a shadow of doubt, the most famous ghost at one of Britain's most haunted sites.
But does this murky photograph show the fabled Grey Lady of Dudley Castle or something less spooky? The image was taken by Amy Harper, 28, on her smartphone during a visit to the castle – which dates back to 1071 – with her husband Dean, 33, and their three children.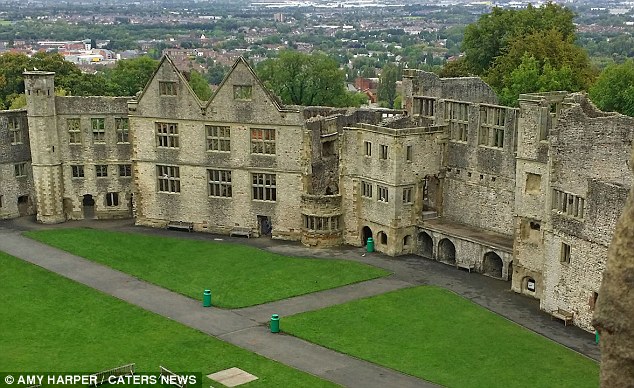 The shot of the Sharington Range Tudor palace, taken from the top of Dudley Castle tower, which showed a red glow to the upper rooms and a ghostly figure in the archway beneath (inset below)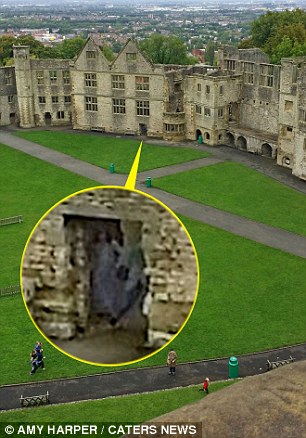 zoomed in and max enlarged below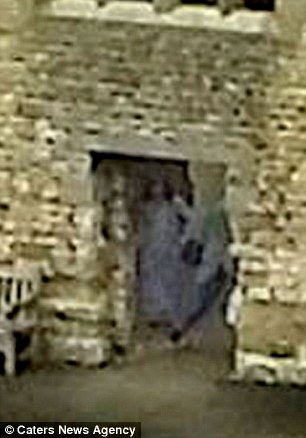 It was only when they were back home in Birmingham that Mrs Harper took a closer look.
She zoomed in on the picture, taken from the castle tower, of Sharington Range, a ruined Tudor building in the grounds. Suddenly, she saw a hazy image of a woman in grey standing inside the arch. 'It is really creepy,' said Mrs Harper. 'Dean had heard about the ghost of the Grey Lady and we think it must be her.'
The photo sparked speculation on social media that it was either the result of clever editing or had been achieved by using a special app that can implant ghoulish figures into images. But Mrs Harper denied the suggestion, insisting: 'To be honest I wouldn't have a clue where to start.'
Barri Ghai, lead investigator at the Ghostfinder Paranormal Society, who call themselves the UK's leading ghosthunters, said the figure is 'too vague and grainy' to be a hoax.
He believes the image may be the result of 'matrixing', a term increasingly used among paranormal investigators to describe the human mind's natural tendency to find something familiar in complex shapes or colours. This can cause the brain to think it can see a specific person.
Thanks to Amy Harper + Mail Online, Birmingham Mail and Mystery History TV for sharing this story