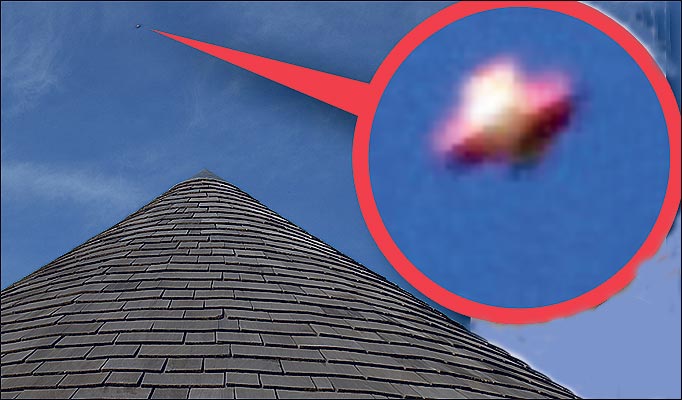 Above: Original case image with enlargement inset

05-02-2009: 'Flying Saucer' Accidentally Snapped Over Bournemouth, Hants, UK

UFO experts went into orbit over this amazing photo of a "Thunderbird" flying high above Bournemouth.

Excited alien-spotters hailed the picture, unwittingly taken by professional snapper Mark Wild, as one of the best they had ever seen.
The mystery craft, bright orange-red like Thunderbird 3, was caught in a head-on shot on camera hovering above the resort on the Dorset coast; but Mark, who was taking arty pictures of seafront buildings, did not even realise it was there until he got home and looked at his photos on his home computer.
Mark, 35, of Poole, said: "When I pulled the pictures up I noticed something there. "When I enlarged it I saw what I can only describe as a UFO. "I have shown it to quite a few friends and nobody has the faintest idea what it is. "I'm pretty open-minded but to think I might have caught an actual UFO is amazing."
Mark's girlfriend Amanda Hickey, 37, who was with him at the time, said: "We were in real shock. "It was as clear as day on the computer screen." The stunning snap emerged on the day The Sun revealed that a dossier made public by the Ministry of Defence showed UFO sightings doubled last year.
Last night flying saucer expert Nick Pope, an ex-MoD worker, said: "It is an amazing picture, one of the best I've seen in some time. "Most pictures are taken at night and just show vague lights.

"With this you can clearly make out a structure to the thing and it is a classic UFO shape."
Source: The Sun 6th February 2009