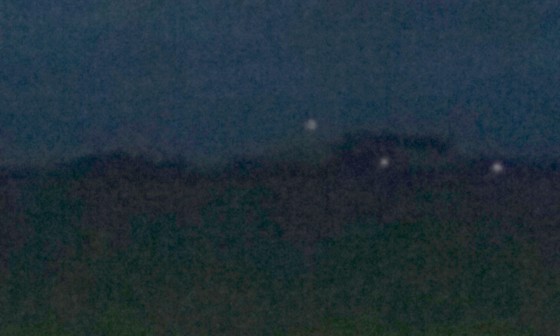 Witness photo - lightened slightly.
This report was submitted to BEAMS at 01:46 PM UTC - 08 July 2016
Name


   *******

Email


   *********@gmail.com

City


   Chichester, West Sussex, UK

Date


   07/07/2016

Location


   Earnley 

Message


   I saw what I thought was a helicopter with a beam shining, 
   then realised it was not an aircraft of any kind as the light, 
   which was white and round, was dancing about. 

   My camera was on charge so I ran in to get my Phone to 
   take a picture; 

   I managed to capture it, not brilliantly but I snapped 
   it nonetheless. 

   I watched the light for a further 5 minutes then it literally 
   disappeared. 

   I went indoors to upload the image to my laptop and had 
   the shock of my life, 

I had captured 3 Lights in a triangular 


   

formation!

 

   I checked the lens on the phone but there were no marks 
   on it, 
   
   I also took a couple more pictures of the black sky just to 
   make sure and nothing came out. I am really confused how 
   I saw one light, yet my phone camera captured 3!!!