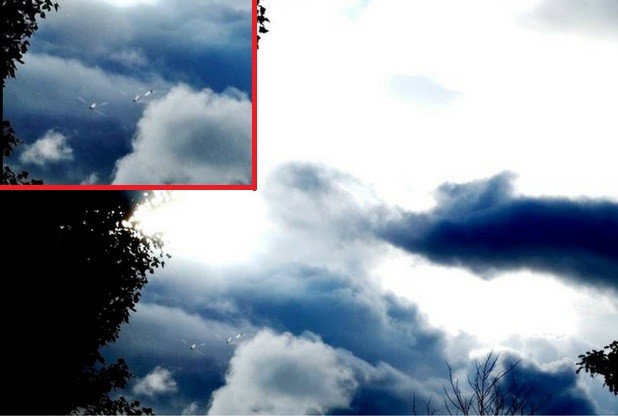 16 10 16 3 UFOs Captured Over Cheltenham, Gloucestershire, UK
What are these strange aerial objects captured in front of this rabbit-shaped cloud?
A Cheltenham woman who thought she was capturing a funny looking cloud might have captured something a bit more sinister.
Mary Perry, who lives in Prestbury, took a picture of a cloud which clearly resembled a giant bunny rabbit.
But later, when she looked at the picture more closely, she noticed something else.
Three grey objects were flying in close proximity to each other in the sky.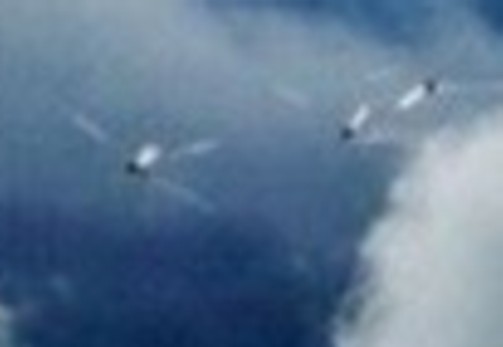 High enlargement of objects


Mary, who has two children and owns an IT business Charlton Networks with her husband said: "I've got this camera I've had for a few months and I was just playing around taking a few snaps in my garden. Then the formation of the cloud looked interesting so I took a series of snaps."
"I didn't really notice them when I was first looking – they just appeared after I took the photo. I don't know what they are, they look so unusual. People talk about drones but I don't know much about them."
Mary took to Facebook group Cheltenham Now to ask others what they thought they might be.
One woman said: "Would 3 drones be together like that? Some weird stuff in our skies."
And a man said: "Could be drones but funny this post is up. Yesterday travelling down the golden valley I saw a weird object in the sky around Leckhampton hill area. Put it down to glare on the windscreen but seeing this post made me think hmmmm maybe not."


Source: GloucestershireLive