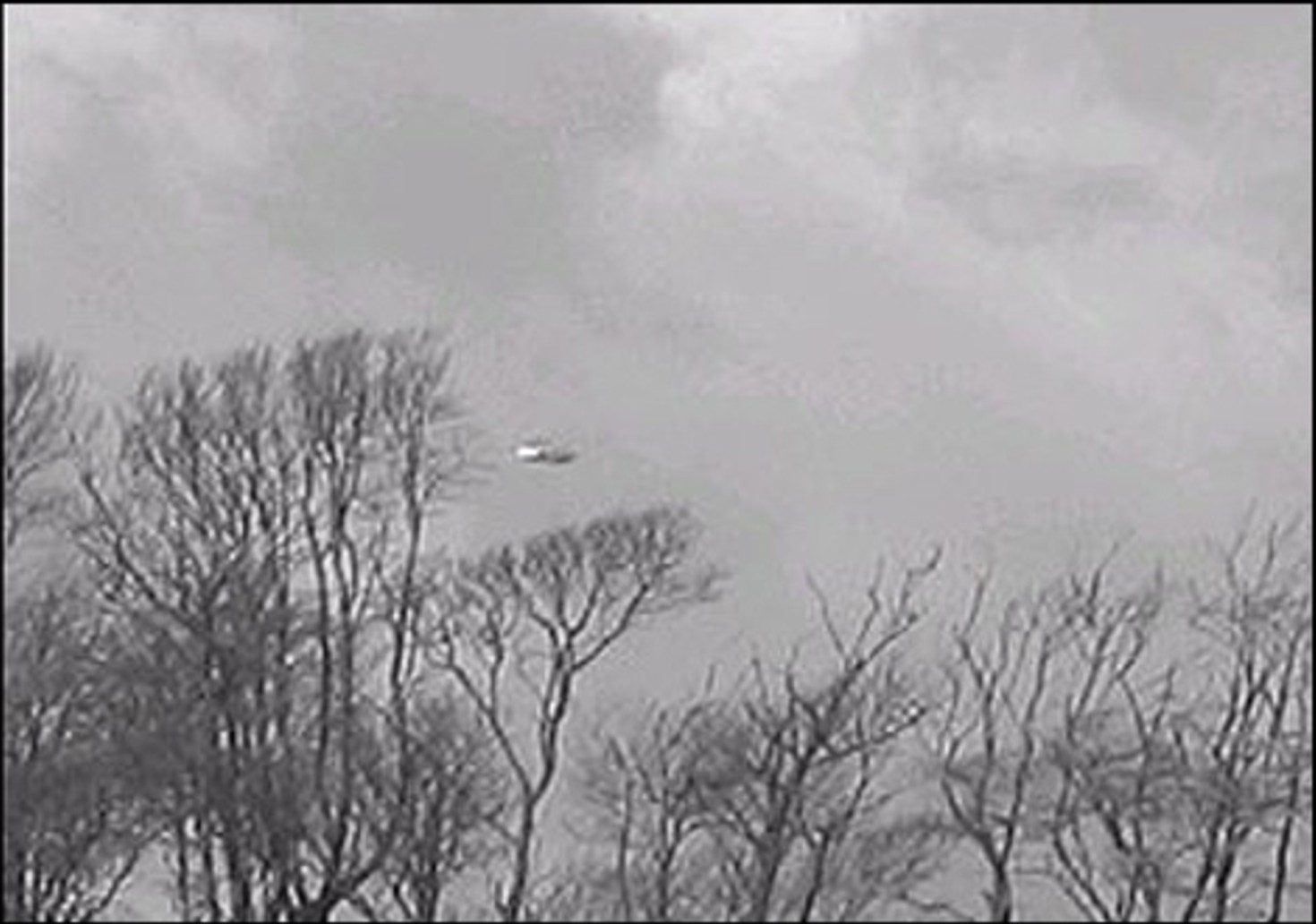 Above: Original case image:
Silver Disc UFO
photographed by witness while out walking with his family at Chanctonbury Ring W. Sussex
Sourced from an article shared with us by BBC Southern Counties:

"On February 26th 2005 Jerry White and his family set out for a nice post Sunday
lunch stroll in the Sussex countryside. Little did they know that they were seconds away from a close encounter with something strange.
Jerry tells us his strange story:
"My son took this photo with his digital camera at Chanctonbury Ring last Sunday lunchtime. None of us present had noticed anything strange at the time, and it wasn't
till my son downloaded the pictures from his camera that he noticed the strange object.
I thought that it may be a drop of water on the lens, but photos he took before and
after show nothing similar. Another photo, taken half an hour later by my daughter on her camera, seems to show a glowing white object above the Ring, but it is a lot less convincing than this one.
He has checked all his other photos, including some taken about a minute before the one with the object, and has found nothing else odd.

Below is the photo taken by one of my daughters showing a small bright object over
the ring, but I don't think that it is very convincing as a UFO. However, none of her
other pictures show it, so I don't think that it is anything on the lens. The weather at
the time was rapidly changing between bright sunshine and grey overcast, with the occasional flurry of snow."

A couple of minutes before my son took his picture, a glider passed over us, flying
away from the ring as we walked towards it. But I don't think that the object in the photo bears any resemblance to the slender shape of a glider."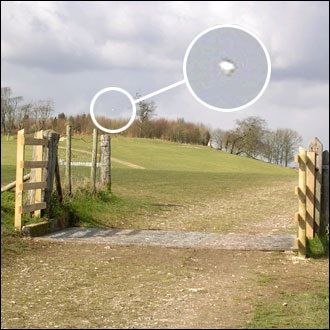 Above: Another UFO over Chanctonbury Ring; this was snapped same day in 2005 as the top image
More information:
An area full of surprises:



Chanctonbury Hill/The Ring
Over the years the 'Ring', an Iron Age Hillfort, (a site which was later used for religious purposes), has been the location of many UFO sightings, but not many as well documented as Jerry's. One sighting, which was given a few editorial inches at the time, was on the 31st October 1972. (Could this just be a coincidence that it was also Halloween?)
According to sources, three men from Worthing who were walking towards the Ring in the late evening, came face to face with a giant glowing object which took off into the sky, leaving the men in need of a stiff drink and a lie down."
Uncanny physical effects have been reported by other people when standing on the summit here, such as a temporary paralysis of the limbs - and even a levitating force which was said to have raised one visitor up several feet into the air and then dropped him down again.
The Green Man
An early Green Man carving can be found in the building now used as a Post Office in nearby Steyning,
(
with this village name thought to have arrived from "people of the stone - or stones)
see image below.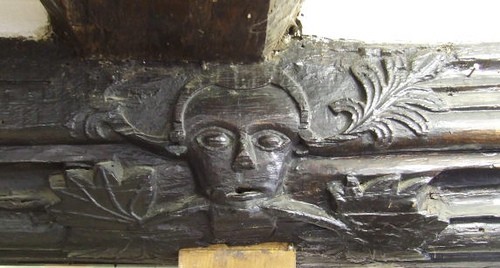 Such foliate heads are said to represent tree worship and fertility.
Throw into the Steyning/Chanctonbury melting pot of UFOs, Standing Stones, Occult Religion and Christianity, (
subjects which are all interconnected at some level in our opinion),
one other factor; today Chanctonbury Hill is also well known by Ley Line enthusiasts for the geomagnetic energy flows which pass through this
prominent landmark
.
Green/Tree Man or Watcher/Guardian captured on camera inside Chanctonbury Ring?