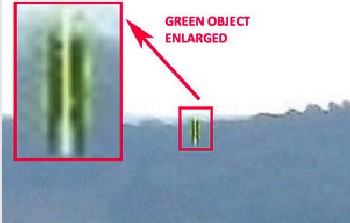 Green, 'Mechanical-Looking' Vertical Tube UFO June 09 2013 Teignmouth, Devon, UK
TEIGNMOUTH DEVON -- I have been investigating the UFO phenomenon? for many years and have witnessed and photographed more UFOs than most people. Here is a photo I took of a Green tube UFO in Teignmouth, Devon, UK on June 9, 2013.

The UFO was stationary and not moving. Then it shot up in to the sky and disappeared. You should check out my torrent with all my UFO photos that I have photographed in Devon, UK.
Thanks to William Puckett, Director http://www.UFOsnw.com