Farncombe, Surrey, 21st July, 2007, England.
Time: Approx: 11:00 p.m.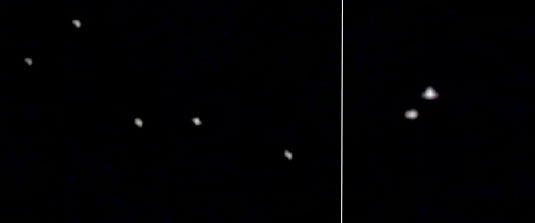 Description: a fleet of very bright lights flew over, moving like nothing I've ever seen, no way a plane could move like that, they pulled very sharp turns at very fast speeds or so it appeared;
then two completely crossed paths.
Caution: The language spoken in this footage may not be suitable for children.


Part 1

"I couldn't believe my eyes. We recorded the sighting on a mobile phone. They look very freaky. I really would like to know what it was I saw."

Part 2
Color/Shape: They were bright, almost like flying balls of fire.
Height & Speed: Really not sure, couldn't say, they crossed the sky much quicker than I would expect a plane to though.
TV/Radio/Press: I've heard nothing so far, but someone else must have seen them.
BEAMS comment: Although many will believe that these objects were simply sky lanterns... we have good reason to believe otherwise.