Crop Circle Reports
The reader may wonder why it is that we have a category on our site for crop circles, when the majority of these field markings are blatant deceptions? Well, there is a very good reason: Oddly enough, energetic spheres of light, (miniature orb-type UFOs) and other unexplained happenings have been reported by many reliable witnesses in the vicinity of these field impressions, of which we have photographic evidence; strange phenomena that are perhaps attracted by, (or even somehow triggered by) the man made geometry itself; we simply do not know; but this is the ONLY aspect that we are personally interested in here at BEAMS, of what is otherwise a rather commercial, misleading... even fraudulent subject.

Article Key: With pictures =

With video =

15/03/2018 - Interesting, Big Concentric Circle Ground Markings/Traces? Crondall, Hants, UK


16/11/2017 - Unusual Crop Marking Seen Fr King Stone Great Rollright, Chipping Norton, UK


16/08/2017 - Has an Alien Figure Been Captured in a Crop Circle Field at Avebury Wilts, UK?


21/07/2017 - New/Old: VI Unseen 2012 UFO/Portal? Image - Silbury Hill Near Avebury UK


25/05/2017 - Amazing Crop Circle Discovered Near Winchester, Hampshire, UK


2016 - Crop Circle Photos


New/Old: Swirled Circle and Field Marks Discovered in Potters Crouch, St Albans, Herts, UK


New 2015: Francine Blake Special Report - Crop Circle UFOs, Spheres and More


Crop Circles Are No Hoax (Some of Them at Least) Concludes Historian


The Misinformers - Linda Moulton Howe v Steve Alexander(BEAMS Exclusive)
Crop Circles - The Mysterious Balls of Light Phenomenon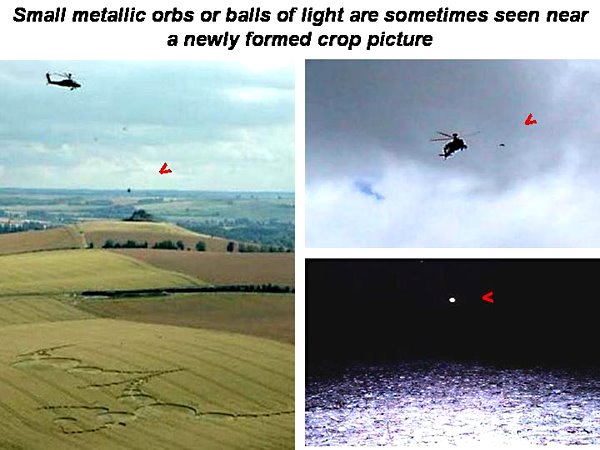 21/05/2015 - Large Sphere Captured Moving Across Farmland, Winchester, Hants, UK


30/03/2012 - Nice Photo of a UFO Over West Kennet, Wilts, UK


02/06/2011 - Mystery Ball of Light in Field, UK (Requires Full Screen Viewing)


02/08/2010 - Black UFO Rising From Crop Circle, Nr Alton Barnes, Wilts, UK


02/08/2010 - Unidentified Lightform in Crop Circle, Cley Hill, Warminster, Wilts, UK


16/07/2009 - Expert Steve Alexander, "We Know Crop Circles Are Man-Made"
18/02/2009 - Report: The Body of Crop Circle Researcher Paul Vigay Found Washed Ashore